THE TASK OF THE TRANSLATOR -
A.CO & FODAZIONE CONVERSO
---
31.03.20
Co-CURATION MARCELO ALCAIDE
---
A.CO joins Fondazione Converso to present a new ongoing digital initiative titled "The Task of the Translator." This project invites Converso's community to consider the prominent lexicon associated with Covid-19 and aims to translate these pervasive words and phrases — such as social distancing, herd immunity, and ripple effect —into a meditative study on contemporary visual culture.

Converso will use its digital channels to publish photo, video, and poetry from contributors in order to cultivate and collage the different perspectives that comprise a global portrait of the pandemic and its vast implications.

GLOSSARY
CONSCIOUSNESS
COMMUNITY SPREAD
COMRADESHIP
DRACONIAN MEASURES
FLATTEN THE CURVE
HERD IMMUNITY
LIMITED ONSITE
MUTATION
QUARANTINE
RED ZONE
RIPPLE EFFECT
SELF-INNOVATION
SHELTER IN PLACE
SHUT-IN ECONOMY
SMARTWORKING
SOCIAL DISTANCING
TELEWORK
TRANSMISSION

---
"Whereas content and language form a certain unity in the original, like a fruit and its skin, the language of the translation envelops its content like a royal robe with ample folds. For it signifies a more exalted language than its own and thus remains unsuited to its content, overpowering and alien… Thus, ironically, translation transplants the original into a more definitive linguistic realm, since it can no longer be displaced by a secondary rendering." Walter Benjamin, The Task of the Translator, 1921

#001 The first contribution is an image by curator and DJ Lhaga Koondhor (@asianayz), inspired by Alvin Lucier, "I Am Sitting in a Room," composed in 1969.



IN A CIVILISATION OF DISPERSION
TO BE AUTUMN LEAVES
DARK NATIONAL ELECTION
IRREVERSIBLE
CLEARLY,NOTHING IS CLEAR
COLORIS A PARTICULAR MANIFESTATION OF LIGHT
EVERYTHING ELSE IS DOUBTFUL
WE LIVE IN IMAGINERY COUNTRIES
......... (TO WRITE )
.......... (TO WRITE)

MY TERROR MY SOUL




#002 Michèle Lamy (@lalamichmich) shares an excerpt from the Lavascar LP "Garden of Memory" made for the exhibition of the same name held at Musèe Yves Saint Laurent, Marrakech (@myslmarrakech), which ran from May 14th to September 16th, 2018.
Lavascar is a spoken word/electronic music project by Michèle Lamy, Nico Vascellari and Scarlett Rouge.

"Lavascar" by Michele Lamy, Nico Vascellari and Scarlett Rouge
Music: Nico Vascellari / Rocco Rampino
Lyrics: Poetry of Etel Adnan
Producer: Rocco Rampino
Mastering: Greg Moore at Finyl Tweek
Recorded with The Vinyl Factory at the Strongroom Showroom, London,
June 2018.






#003 Writer and architect Alessandro Bava (@___bava) shares a repost of Mimi Zhu by Britney Spears via Instagram. Thank you Alessandro!

NEW CONSENSUS AND CLARITY AROUND THE REALMS OF FASHION/ART/MEDIA AND THEIR APPARATUS COULD BE OF UTMOST NECESSITY AS THE SPEED, CYCLES AND SEASONS – THE VERY STRUCTURES THESE SECTORS ARE BUILT UPON – NOW HAVE BEEN COMPLETELY INTERRUPTED. WE ARE USED TO BEING CONSTANTLY STIMULATED AT ALL TIMES ONLINE AND TO BEING EXPOSED TO A MASSIVE AMOUNT OF DATA EVERY DAY. WHEREAS THE ONLINE REMAINS AS DIFFUSED AS ALWAYS, CAN THIS FORCED STILLNESS – OR STANDSTILL – HELP US NAVIGATE OUR OFFLINE LIFE AND THE OTHERWISE SATURATED AND OFTENTIMES OVERWHELMING CULTURAL CLIMATE? CAN IT POSE NEW QUESTIONS, FACILITATE NEW DISCOURSE AND CREATE NEW CONSCIOUSNESSES? I THINK IT WILL BE INCREASINGLY IMPORTANT TO REWRITE A HEALTHY COLLECTIVE AND CRITICAL ENVIRONMENT TO INTERACT WITH THE ACTUAL PRODUCTION AND HISTORICAL POSITIONING OF THE ARTS, FASHION, ETC. WITHIN THE LARGER INTELLECTUAL CIRCULATION. WHY IS THIS OR THAT SO IMPORTANT TO DISCUSS, EXHIBIT, PRESERVE? THE FACT THAT MY GENERATION ARE SLOWLY BEING GUIDED INTO BECOMING ALMOST NON-LITERATE – PREFERRING AND PRIORITIZING VISUAL CONTENT OVER TEXT AND THE WRITTEN WORD, AND MOREOVER, LACKING TRUST IN TRADITIONAL MEDIA – ILLUSTRATES THE NEED FOR THIS ASPECT TO BE KEPT NOT ONLY ALIVE BUT APPROACHABLE AND DIGESTIBLE FOR A YOUNGER AUDIENCE, DESPITE ELEMENTS OF RIGOUR AND 'EXCLUSIVITY' THAT CRITICISM IS OFTEN ASSOCIATED WITH. SOME FORM OF ACTIVE RESISTANCE IS REQUIRED. IN QUARANTINE, WE ARE GRANTED THE TIME AND SPACE (IF NOT PHYSICAL, A SITE FOR STUDY, THOUGHT AND CREATION) TO REFINE THE STATE OF 21ST CENTURY CULTURAL CRITIQUE.

#004 Publisher and curator Elise by Olsen (@elisebyolsen) shares her self-quarantine thoughts on the role of print media today and tomorrow. This text is an excerpt from "Printed Matter and the Written Word in Times of Trouble," published this week by IAM Journal via Medium.


Film still from "GWTW" via Netflix.

#005 Mitchell Anderson (@mitchellwanderson) shares a still from a long film on Netflix. "The entr'acte seemed like an equivalent to now. I think a lot about being in a pause, which is cinematic." Anderson's solo exhibition "Moon Piece, The Apostle and Related Works" ran at Converso from June 27th to July 27th, 2019.



#006 Charles Teyssou (@charlesteyssou) and Pierre-Alexandre Mateos (@pierreamateos) share the trailer, as well as a sequence filmed with iPhone, of "O Fantasma" (2000), a film by João Pedro Rodrigues. "When thinking about the first thing we will do after quarantine, what came to mind was the idea of wandering through our city at night again and exploiting all of its sensual contingencies. In O Fantasma, the main protagonist Sergio lives in Lisbon, and spends most of his nights outside looking for sexual partners while working as a garbage collector. The spectators follows his progressive transformation into a creature led by an inextinguishable desire for men, metamorphosis and domination."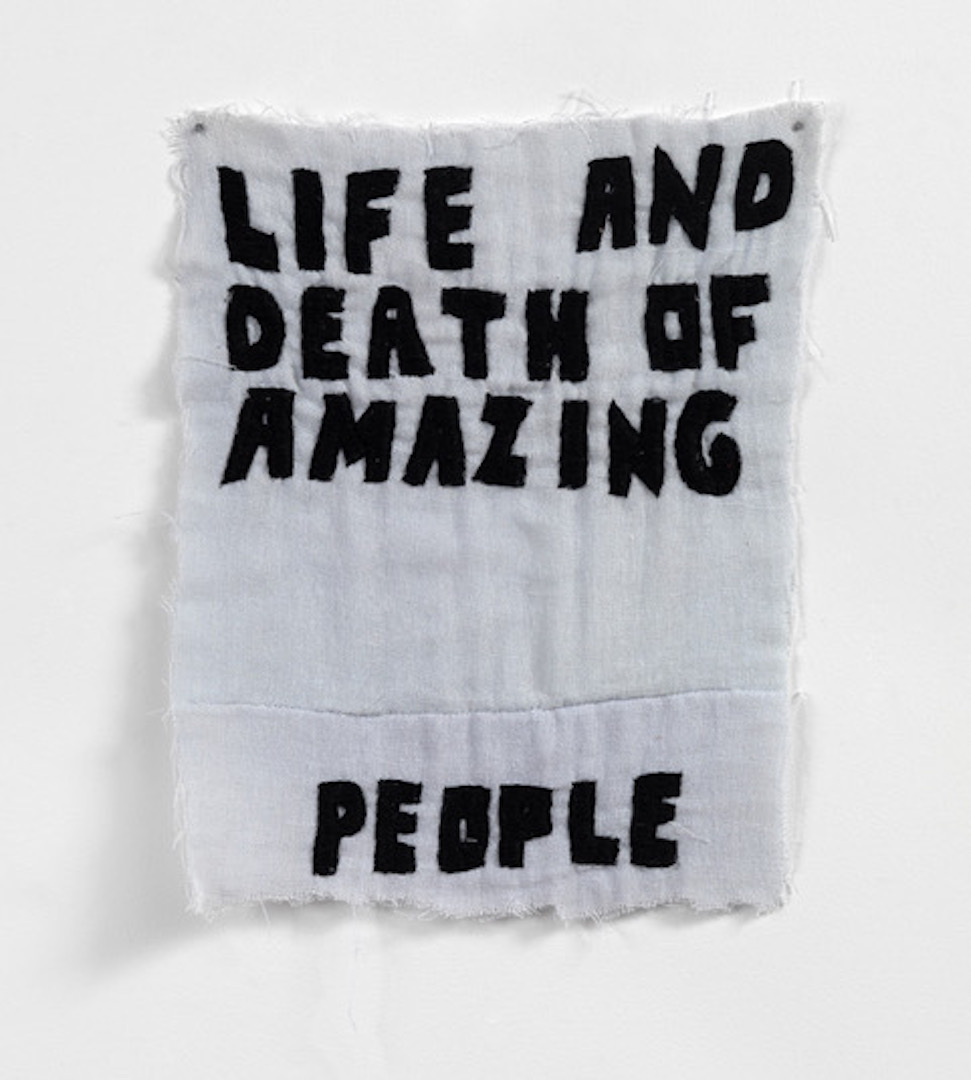 Adriano Costa, LICK ME DOWN DJ SET (1/3), 2020



Adriano Costa, LICK ME DOWN DJ SET (2/3), 2020

#007 Interested in the recurrent term "Ripple Effect," Brazilian artist Adriano Costa (@adrianocostaluis) shares two images and a cartoon sequence which he titles "LICK ME DOWN DJ SET." Costa lives and works in São Paulo.



An ink drawing by Gianni Jetzer

#008 "It is an ink drawing that I made while teleconferencing. I am still a beginner but I get better with every call. Can't meet without ink at hand anymore—I still miss real people but at least I enjoy the sensuality of paper while I talk to them..." – Gianni Jetzer (@giannijetzer), Independent Curator and Curator-at-Large at the Hirshhorn Museum (@hirshhorn), Washington D.C.

LINK TO VIDEO
#009 Jeff Mills (@jeff_mills_official) shares a video highlighting the ubiquitous and precautionary ecstasy of using hand sanitizer. So much so, we may look at it in the hypnotic sense. Artwork, video and music by Jeff Mills. Courtesy of Axis Records.
"AT LEVE ER IKKE NOK!" SAGDE HAN, "SOLSKIN, FRIHED OG EN LILLE BLOMST MÅ MAN HAVE!""STAYING ALIVE IS NOT ENOUGH," HE SAID. "YOU MUST HAVE SUNSHINE, FREEDOM AND A LITTLE FLOWER TO LOVE!"



#010 Our tenth contribution comes from Copenhagen-based artist Rasmus Myrup (@rasmusmyrup), who shares a translation from Hans Christian Andersen's 1862 fairytale "The Butterfly."




#011 Tommaso Protti (@tomprotti) shares a selection of photographs from a forthcoming series which began during his quarantine in São Paulo.




#012 "Have you noticed how many more lights in the buildings are on when walking down the street?" Davide Stucchi (@davidestucchi) shares installation views from his exhibition "Light Switch (Entrance)" at Galerie Gregor Staiger (@galeriegregorstaiger), Zurich, which ran November 23rd, 2019, to January 25th, 2020. The switches portray hands so as to create a misleading haptic touch. It's home, but it's missing a touch.

#013 Harley Weir (@harleyweir) shares a fluid photo painting titled "Calling Emilie Kareh."